This week in the book related TV, Audio and Movie news:
Television: Villains of All Nations
Audible has launched
ACX
, the Audiobook Creation Exchange, that allows "any professionally published book, new or old, to become a professionally produced audiobook." The site links authors, publishers and agents with narrators and studios who work in a variety of ways: deals and contracts have several structures. Audio titles that evolve from ACX are distributed by Audible (including Amazon and iTunes) for at least seven years, either exclusively or nonexclusively. Authors can also narrate their own works. (Check out a video about this audio venture
here
.)

ACX was launched in part because of "the tremendous demand for audiobooks created by the growth of the digital audiobook sector," which is regularly the second-fastest-growing category next to e-books in the Association of American Publisher monthly sales reports. Noting that the average Audible members listens to close to 17 audiobooks a year, Donald Katz, founder and CEO of Audible, said, "Close to 95% of new, professionally published books do not become audiobooks. Most authors and millions of avid listeners are disenfranchised from this important market. ACX was created to change this."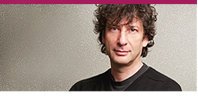 ACX launches with more than 1,000 titles listed. ACX also includes some 100 audiobook narrators and producers, including Dick Hill, Bill Dufris, Tavia Gilbert and Paul Boehmer. In addition, author Neil Gaiman is using ACX to create his own line, called Neil Gaiman Presents, consisting of titles by other authors never before available in unabridged audio. "I'm constantly astonished at how many great books, beloved books and books that have a special place in my heart are not and mostly never have been available as audiobooks," he said. "ACX seems a brilliant .
~From Shelf Awareness May 12, 2011 Thursday